Description
Love hot sake but can't be bothered to make it? This Sake Warmer is the very right product for you! Just switch it on and set your ideal temperature to automatically make hot Sake.
An essential kit for hot Sake lovers!
Hot sake making time: 13 min
4 Temperature Stages: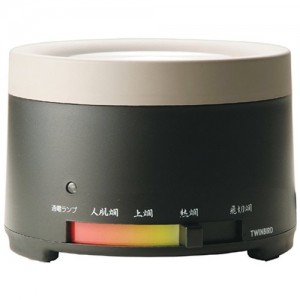 Hitohada Kan (人肌燗): 37℃ / 99℉
Joukan (上燗): 44℃ / 111℉
Atsukan (熱燗): 51℃ / / 124℉
Tobikirikan (飛切燗): 60℃ / 140℉
Heat Retention System to keep hot Sake warmed at the selected temperature.
Removable Server thus easy to wash and handle!
Product Details of TWINBIRD Electric Sake Warmer
---
Product Number: TW-4418B
Size: W175×D140×H220mm
Weight: 0.9kg
Power Supply: 100V
Energy Consumption: 250W
Temperature Adjustable Range: 4 Stages, 37~60℃ (Hitohada Kan / Joukan ? Atsukan ? Tobikiri Kan)
Capacity: 300ml
Power Cable: approx. 1.8m

Material:

Sake Server:AL, Handle/ Lid / Main body (bottom):PP、Main Body (top):PBT+30%GF
Note:
The appropriate voltage of this product is AC100V 50/60Hz.
The power converter will be needed for use in countries using AC 110~240V.
No refund will be applied for voltage issues.
Power Converters in: Amazon.com, Amazon.ca, Amazon.uk
Additional Information
Reviews (0)
---