Description
Nousaku Tin Katakuchi Sake Server is one of the top selling Sake servers in Japan! Enjoy this Nousaku Sake server loved by a huge number of Sake fans.

Nousaku is one of the top Sake vessel manufacturers in Japan. With its beautiful design and pure tin material, Nousaku has gained great popularity among Sake sippers. Nousaku products have been featured in a countless number of media in Japan including TV shows, magazines, books, radio and websites.
Nousaku Makes Sake Milder
---
Since ancient times, it has been said that tin wares make Sake milder, removing its off-flavors.
It has been believed that water in a tin container does not spoil, and tin removes excessive bitterness from sake and produces better taste. Because it is known to absorb impurities and purify water, tin wares allow you to enjoy liquor, meals, sweets, or flowers. Tin plate cooled in a refrigerator for 2-3 minutes will keep the plate fresh and cold.
Great Heat Conductivity
---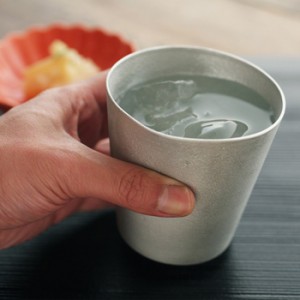 Pour cold Sake into Nousaku Sake cup, and you'll immediately feel its coldness from the body of the Sake cup. In a flash of second, really.
Likewise, the warmth of hot Sake is quickly conducted to the Sake cup once it's poured.
Nousaku Doesn't Rot
---
Tin is resistant to oxidation and discoloration, and doesn't rust like iron.
Moreover, tin won't blacken like silver. It can be washed with household neutral detergent for general use.
Nousaku Is Harmless to Body.
---
Nousaku products are 100% tin. Therefore, it doesn't include any lead. Utilizing antibacterial effects of tin, Nousaku also produces medical appliances.
Handmade by Artisans
---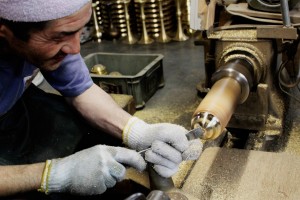 Each product is handmade by artisans in Takaoka, Toyama Prefecture. Takaoka is the producing center of 90% of Japanese temple bells.
Product Details of Nousaku Tin Sake Set Bamboo
---
Content: 
Sake Server: 1

Guinomi Cup: 2
Size: 
Sake Server: 220 ml (7.4 oz)
Guinomi Cup: 50 ml (1.7 oz)
Material: Tin
Made in: Toyama, Japan
Additional Information
| | |
| --- | --- |
| Weight | 250 g |
| Material | Tin |
| Color | Silver |
Reviews (0)
---