Description
Product Details of Ultimate Guide Sake Types Poster
As you can see from the sample PDF, this poster describes the basics of sake in great detail.
If you want to know more about sake, it is recommended that you put this poster up somewhere close so that it is at your disposal.
Also, if you display this poster at your restaurant, it will surely please customers who are interested in sake!
Using this poster to help customers choose their sake will definitely make them happy.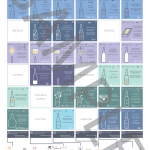 Click for PDF file
The ultimate guide to 32 types of Sake.
Easy reference to Sake Making Process to see what's special about each Sake type.
General flavor & aroma description.
General serving temperature guide.
The Japanese names available for easy reference to your bottle label.
One print of this, and you'll be a master on any types of Sake!
Size: A2 (42.0 x 59.4cm, 16.53" x 23.39")
Material: Matte Thick Paper
Thickness: 135kg
Made in: Kanagawa, Japan
Additional Information
Reviews (0)
---