Description
Product Details of Sake Temperature Match Poster
This is Sake Temperature Match Poster.
14 types of Sake matched with 5 serving temperatures.
10 Sake temperature names in a thermometer.
Descriptions of effects of serving temperature on Sake flavor and aroma.
Sake temperatures matching with Sake vessels.
Materials of Sake vessels
Rule of thumbs for hot Sake
How to make hot Sake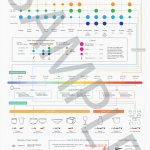 Click for PDF file
The ultimate guide on Sake serving temperatures! One print, and you'll be a master of Sake temperature and Sake vessels.
Size: A2 (42.0 x 59.4cm, 16.53" x 23.39")
Material: Matte Thick Paper
Thickness: 135kg
Made in: Japan
Additional Information
Reviews (0)
---