Kikichoko Janome Tasting Sake Cup
Dispatch within 3-7 business days.
Kikichoko (aka Janome Ochoko) is probably the most-known ochoko cup. Why? Because it's the one used for Sake tasting by Sake sommeliers.
Janome literally means 'Snake eye'. It's called Janome because the two blue circles inside the cup look like a snake's eye. These circles are used for checking the quality of Sake.
The white parts are for checking the 'transparency' of Sake, while the blue circles are for the gloss of Sake.
The name, Kikichoko stems from two words – 'Kiki' (tasting) and 'choko' (Ochoko /Sake cup). Therefore, the name literally means 'Sake tasting cup'!
We have prepared Kikichoko Cups in various sizes. Pick your favorite size!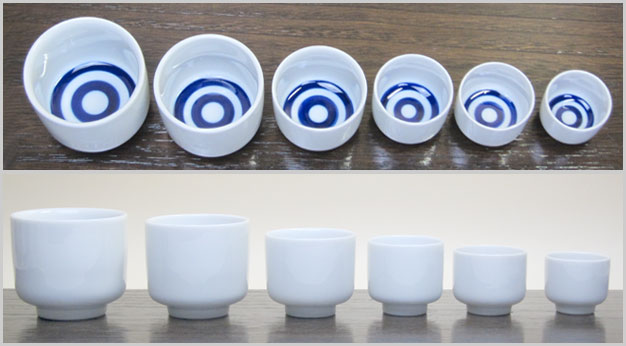 Interested in buying 30+ units? Contact us for wholesale inquires!
Product Details of Kikichoko Janome Tasting Sake Cup
---
Size:
35ml (1.2oz) / 45 x 40mm
50ml (1.5oz) / 50 x 42mm
60ml (2.0oz) / 52 x 49mm
100ml (3.4oz) / 62 x 56mm
150ml (5.1oz) / 70 x 65mm
180ml (6.1oz) / 78 x 70mm
*Actual size may vary since it's a handmade product.
Material: Porcelain
Made in: Gifu, Japan
| | |
| --- | --- |
| Material | Ceramic |
| Color | White |
---