Description
Celebratory Sake Set
---
The combination of vivid red color and clear cut glass depicts the Japanese celebratory coloring of Red and White, called Kouhaku in Japanese. The coloring of red and white has been used for celebratory occasions in Japan for centuries. Curtains in red and white colors are often used for school ceremonies, festivals, traditional wedding, opening ceremonies of stores, and many others.
This Edo Kiriko cut glass Sake set has two traditional cut patterns – Kiku Tsunagi (chrysanthemum) and Sasappa (Bamboo leaves). Both are traditional cut patterns of Edo kiriko. The name of the Sake set, Iwai means Celebration, whereas Zen means meal. Therefore Iwai no Zen literally means 'celebratory meal'. How could this not be a gift for celebratory occasions?
.
Hand Made by Skilled Artisans at Royal Glassware Brand
---

Designed by Akio Kimura, this jewel-like Sake set is hand made by skilled artisans at KAGAMI CRYSTAL, the royal glassware brand who has presented glassware to the Imperial Family of Japan and the Government of Japan for the past 70 years. Their glassware is also used in all Japanese embassies and consulates in the world, as well as in dinner parties with national guests such as the royal families and presidents/premiers of foreign countries.
Jewel-like piece of EDO KIRIKO
---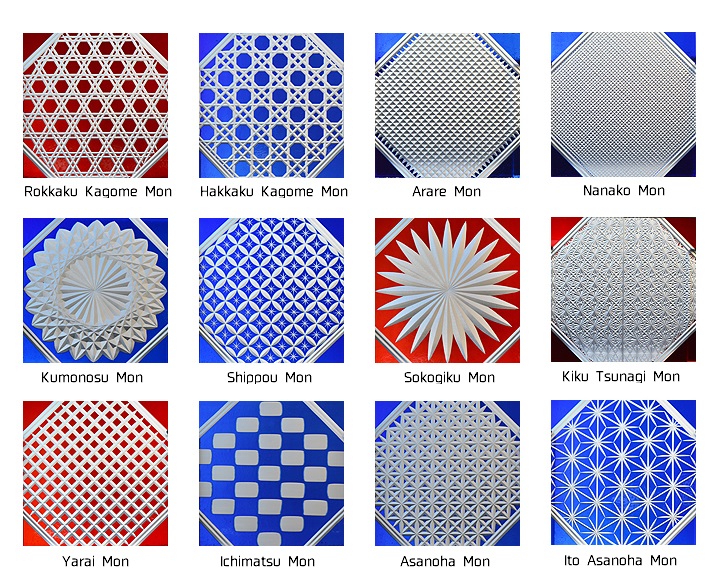 Edo kiriko, or cut glass, is a traditional craft of Japan in which clear colors and delicate patterns are cut into glass.
Edo kiriko cut glass was founded more than 170 years ago in Edo Period in Edo area (today's Tokyo area). The traditions and techniques since Edo period have been handed down from artisans to artisans in this area until today.
This hand made method requires very high skills, which can only be obtained after at least 10 years of training.
Edo kiriko features designs like none other. The popular patterns that were made during the Edo Period were known as nanako (combining the Chinese characters for "fish" and "child"), as the patterns looked as if they were composed of many drops of fish eggs connected together. Today, patterns such as yarai (resembling a rain of arrows), chrysanthemums and hemp leaves are also used either alone or in combination with nanako. Products made using these designs include tokuri (sake bottles) and guinomi (sake cups), as well as Western products such as wine glasses, rocks glasses and other products such as dishes and vases. With elegant, transparent and clean Japanese-style designs, the works of Edo kiriko will captivate anybody's heart.
Great Gift Idea
---
Edo Kiriko Sake Set is a great gift idea. The sake set comes in a wooden box, therefore can be presented for anniversaries, celebrations and to those who love Japan. A bit pricey, but you'll know why as soon as you see the kiriko glass. The shiny Edo Kiriko with vivid coloring will surely be the gift that will be favored by the recipient for a long time. From the beautiful patterns, you can see the delicate work of master artisans.
Product Details of Edo Kiriko Sake Set Iwai no Zen
---
Contents:
Tokkuri Flask x 1
Sake Cup x 2
Size:
Tokkuri Flask: H125mm (H4.9″)
Sake Cup: φ65×H40mm (φ2.6xH1.6″)
Size:
Tokkuri Flask: 280ml (9.5oz)
Sake Cup: 50ml (1.7oz)
Material: Lead Glass
Made in: Japan
Additional Information
| | |
| --- | --- |
| Material | Glass |
| Color | Pink, Red |
---